SUPPORT FOR YOUR PRACTICE AND YOUR PATIENTS
Enroll in ELAHERE Support Services
Here to help you navigate access for your patients
ELAHERE Support Services is committed to helping appropriate patients start on ELAHERE by offering access and reimbursement support as well as affordability assistance.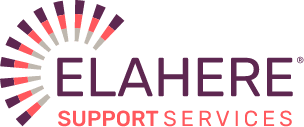 Access & reimbursement support
Benefits investigation
Prior authorization (PA) assistance
Appeals assistance

Co-pay assistance program*
To support commercially eligible patients with out-of-pocket costs
Patients could pay as little as $0 for their medication

Patient Assistance Program (PAP)
To help uninsured or underinsured patients who meet eligibility requirements access medication at no charge†
Questions? Connect with an ELAHERE Support Services Program Specialist
Phone: 1-833-ELAHERE (1-833-352-4373) Monday to Friday, 8 AM to 8 PM ET
1-833-ELAHERE (1-833-352-4373)
Email:
ELAHERESupport@cardinalhealth.com
Order ELAHERE
To order ELAHERE, contact your participating specialty distributor or specialty pharmacy listed in the ELAHERE Ordering Information Sheet.
Test for FR
α
The following labs are currently validated to perform the FDA-approved VENTANA FOLR1 IHC‡ test. Access their respective testing order forms below:
The ImmunoGen sponsored testing program, FR-ASSIST™, was developed to reduce barriers to immunohistochemistry testing for FRα expression and to help oncologists make informed treatment decisions for their patients with ovarian cancer by covering the cost of FRα testing. NeoGenomics is participating in FR-ASSIST to provide FRα expression testing at no charge to individuals who meet the eligibility criteria.§
Additional labs are forthcoming.
Resources for your practice
Healthcare Professionals Brochure
Clinical information about ELAHERE and the results of the SORAYA trial
Dosing and Administration Booklet
Information about how ELAHERE infusions are dosed and administered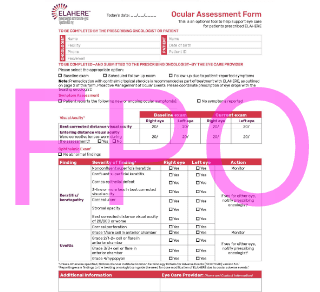 Ocular Assessment Form
Offer your patients a checklist to track any ocular events they may experience
ELAHERE Ordering Information Sheet
Information on how to order ELAHERE through specialty distributors or specialty pharmacy partners
ELAHERE Support Services Patient Enrollment Form
Enroll your patients in the ELAHERE Support Services program to receive access, reimbursement, and affordability support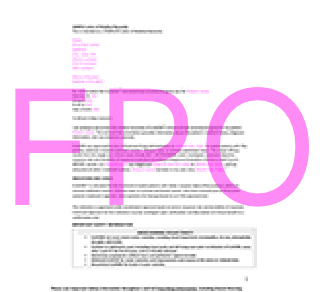 Letter of Medical Necessity Template
Sample letter of medical necessity to help patients access ELAHERE treatment and receive reimbursement from their insurance provider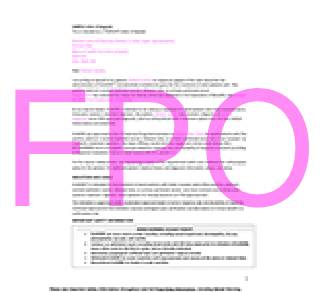 Letter of Appeals Template
Sample letter of appeals to petition a patient's insurance provider in the event of denial of claim for coverage
ELAHERE Billing and Coding Guide
Physician office and hospital/outpatient coding information to reference when billing and submitting claims for ELAHERE
Ocular Billing and Coding Guide
Ophthalmic exam codes for eye care providers to reference when billing and submitting claims
Resources for your patients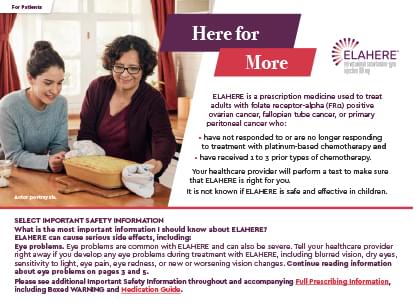 Patient Brochure
Overview of treatment with ELAHERE for patients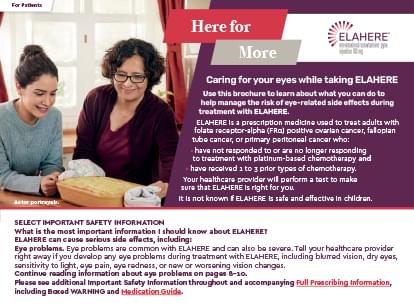 Ocular Brochure
Help your patients prepare for their eye care management while on ELAHERE
Speak to an ELAHERE Rep
For questions about the clinical trial, ordering ELAHERE, obtaining a patient starter kit, or accessing financial support, please be in touch with an ELAHERE representative.
Request a Rep
*Terms and conditions apply. Patients are eligible for co-pay assistance if enrolled in private commercial health insurance and are not covered by state or federal healthcare programs, and who meet the eligibility criteria. Patients will be enrolled for 12 months. There are no income requirements to participate in the program.
†Criteria include: patients who are uninsured or have insurance that excludes coverage for ELAHERE (including patients on Medicare and Medicaid), residents of the United States or Puerto Rico, or patients who meet the financial eligibility requirements. Terms and conditions apply.
‡VENTANA FOLR1 (FOLR1-2.1) RxDx Assay.
§See NeoGenomics website for terms and conditions.
FOLR1=folate receptor 1; FRα=folate receptor alpha; IHC=immunohistochemistry.